Posted by Shekeyse Jones on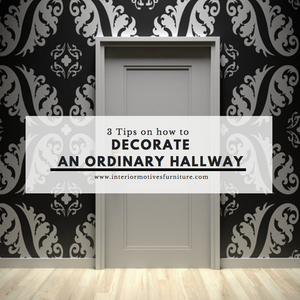 When thinking about decorating your home or office space we have design ideas and plans of how we would like our living rooms, kitchens, and bedrooms to look, but we have overlooked our hallways. The hallway is normally a small space, but it is just as important as the other areas in the home or office. It is the "appetizer before the entree," meaning this space should leave an impression on you that desires more. In many homes and businesses it's the first space to encounter before getting to the beloved living room, kitchen,or bedroom. So, how do we take an ordinary hallway and give it a makeover it...
Posted by Shekeyse Jones on
One thing Interior Motives is obsessed with is pushing the envelope! We love to go where no designer has ever gone before in interior design. We are the "game changers" in the interior design industry. To push your  wall decor to the next level, try using 3D like  faux taxidermy.   With the right design execution, faux taxidermy would look great in almost any space. This wall decor piece will push the envelop. Check out our online store for great faux taxidermy such as the  Gold Antler Wall Sculpture, Metallic Elephant Wall Decor, and the Peculiar Rhino Wall Decor Glossy White. These pieces are so...
Tags:

3D, antler, architecture, art, changer, decor, decorate, design, elephant, fashion, faux taxidermy, interior design, rhino, sculpture, taxidermy, wall, wall art, wall decor, wall hanging, wall sculpture